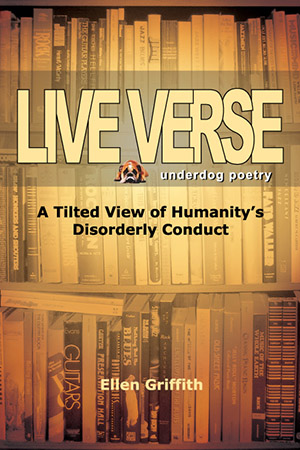 LIVE VERSE is fast-moving underdog poetry with its own view of humanity's disorderly conduct as it deals with love and politics, music and baseball, hard times and corporate greed. For the reader who is trying to make sense of mankind's twenty-first century mess and doesn't know whether to laugh or cry, LIVE VERSE is here to help.
If you're tired of waiting for that "Arc of the Moral Universe" to bend your way, LIVE VERSE will shorten the wait.
If you suspect that capitalism is the legitimate racket of the ruling class, LIVE VERSE is your witness.
If you think Wall Street is a high crime area, LIVE VERSE confirms it.
If you belong to the overworked, underpaid working class, LIVE VERSE declares you deserve a raise! And proves it!
ALSO...Baseball—right from the ballpark
AND...Music—its boisterous history from ragtime to rap
© 2017 Ellen Griffith - RECALL MUSIC